LPI LPII RLD N LPELIT RLD F LPII RLD A RLD M SE OTCH
Highflying That's Just Me
MHMS HIC VERSATILITY BRONS & SILVER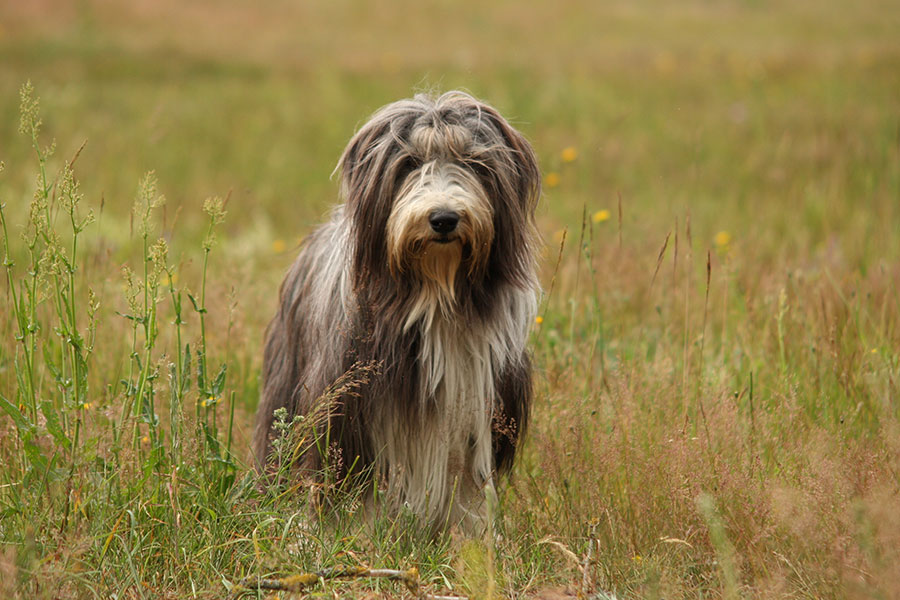 HD: A-A, ED: 0
Penny was born as the second puppy in her litter April 27th 2003 at kennel Highflying. Very proud mum is my Millie. Her dad "Liam" is a nice male, living in the Netherlands. Since I own Millie I got Penny as a "payment". I thought it was too much to have more than two beardies in my home, which I had at this time, I didn't have the energy to have another dog at home so we decided that me and my aunt Kickan will "share" her. Millie was a long time not just Penny's mother, but also her best friend. When Izzie moved in and Millie were in years got Penny's two best friends; Millie and Izzie. It shows what a nice friendship they have between themselves, so great to see!
Althrough Penny is just a youngster she has a biiig personality. She charms everything and everybody! To investigate everything does she all the time. According to Penny is the mening of life just to have, and she is having a lot of fun!
No matter how old Penny is she seems to never stop evolving, constantly takes the new positive things, I'm very fascinated by this.
It's hard to put into words how Penny is, she has so very many fine qualities. One thing that stands out a bit is her talent to understand a lot of words, she understands so much more than the others and I usually say that she is a bit too smart sometimes ... In short, I think she is a wonderful dog!
As a puppy Penny was shown twice, both times BOB-Puppy. At her first show she became BIS-5 of all the puppies! Only 14 months old she did go through a mentally description with gun-shot. September 2004 Penny got Xray and scored. The result are HD A (free) and ED free. During the spring 2004 Penny was taking classes in blood trackning. In September the same year she passed the pretest and she is now qualified to compete in the highest level, open class, in blood tracking. After a lot of training we hope that she someday can start in the open class.
In January 2005 Penny passed the herding instinct test ("HIC"). The judge Carl Borgström was impressed of her, and I was, of course, very proud of her!
During 2005 she made her debut in the obedience ring. Her first enter was att the Swedish Bearded Collie Club's Championships. She won her class and became, like the icing of the cake, also Club Champion! At her four obedience trails she got first prize at them all, she also won three of these! Her average points in this class was 183,25 points of the maximum of 200. This year Penny also won the Bronze Plaque in Versatility and became Top winning Obedience Beardie 2005!
In 2006 got her second title in obedience - LPII. This fall a judge in obedience told me, he had been judging us in an obedience trial last year, that he thought Penny had developed very well! This made me of course very happy! Even this year Penny became Top winning Obedience Beardie 2006!
Our goal for the obedience trial at 2007 were that Penny should be qualified to obedience level elite. At the Swedish Bearded Collie Club's Championships in obedience Penny got the score who made her qualified to level elit and she became again Club Champion! With only two entries at obedience trails Penny became #5 Obedience Beardie 2007.
In the fall Penny passed again the herding instinct test, this time because the Swedish Kennel Club now register the merit, and Carl just loved her!
In 2008-2009 we were mainly herding. During 2010 we started to train obedience again and got one CC in obedience. In 2011 we started to try to get the other two CCs and the obedience champion title. In May the second CC was achived and in October Penny got her third CC and become obedience trial champion!! It has been seven years since a beardie took this title in Sweden.
In the fall/winter 2011 we started to go to rally obedience trials. This year Penny got her three legs in level starter and got the title RLD N and became qualified to the next level - intermediate. Penny was shown twice in intermediate and got two legs. She got her third leg in this level in February 2012 and is now qualified to level avanced. By this she also got title RLD F.
During 2012 we were at many rally trials and she earned the titles RLD A (advanced level) and RLD M (champion diploma). She was the first beardie that got the champion diplomia. In 2012 we also particepted in the Swedish Champships (all breeds) in rally obedience. On day 1 I didn't a mistake and we ended up as #23, the top 20 went to the finals. This year Penny also won the Swedish championships for Bearded Collie in rally obedience and was the placed as the top beardie in rally obedience.
In 2013 Penny won again the the Swedish championships for Bearded Collie in rally obedience, qulified to Swedish Champships (all breeds) in rally obedience and become the top winning bearded collie in rally obedience. She was also the first beardie ever to enter an trial in Heelwork to Music. She ended up as runner-up and is now qualified for the next level, which she also has entered.