About Bearded Collies

The Bearded Collie is a very pleasant medium-sized dog that has its roots in the 16th century when it worked actively as a herding dog. It was mainly used for long distance herding. By barking it could in an easy way make it possible for its master to observe the herding. Today's "Beardies" are, unfortunately, not given the possibility to work actively by herding. You should always remember that the Beardie is bred with the purpose of working for hours and not being just a "decoration".
A Bearded Collie needs to be taken for at least one long walk a day where it can run freely. By stimulating your Beardie mentally you get a pleasant friend, easy to cope with, that is there for you at all times. Good exercises are to learn it circus tricks, obedience or why not try what all dogs love - and that the Beardie is quite suitable for - agility. Naturally there are numbers of things that you can do with your best friend. The only limit is your imagination
A little history
The history of the breed between 1514 and 1944 is relatively unknown. In 1514 the polish salesman Kazimierz Granski sailed from Gdansk to Scotland to trade corn for sheep. The salesman had three herdingdogs with him that impressed the Scots so much that they traded them for some extra fine sheep. Those three dogs were Polski Owczarek Nizinnys (PON). Those dogs were probably to have made a big influence of today's Bearded Collies. Mrs Willison has also had an influence of the Bearded Collie. In 1944 she received a brown Bearded Collie pup by mistake. As Mrs Willison was a breeder of Shetland Sheepdogs she had ordered a "Sheltie" by a Scottish herder. Mrs Willison fell in love with the brown bitch, that was given the name Jeannie of Bothkennar. Jeannie proved to be very good at herding.
In 1960 the first Bearded Collie came to Sweden. Thus the same year the first Bearded Collie was registered by The Swedish Kennel Club (SKK) and has since then won many hearts as a wonderful energetic charmer!
Herding
If you get the opportunity to try if your Beardie has got herding instincts, don't turn this offer down. It may never come back!
During 1996 discussions within the Swedish Bearded Collie Club to arrange herding tests to find out what Beardies that has kept their herding instincts and passes these on to their progenies. In July 1996 this was arranged for the first time. It gave mixed results. Approx. 75% of the dogs tested proved to have herding instincts.

The summer of 1997 a herding camp was arranged where experienced herding instructors joined and taught. The camp was situated in Blekinge and Beardies from all over Sweden participated. Every year since 1997 a herding camp for only Beardies has been arranged. The Swedish Bearded Collie Club had their first "official" hearding instinct test year 2001. Today beardies are annually tested with a slightly varied results.
During the years a few Beardies, f ex Vindjarl's Garm and Artix Esprit Brown Girl, has passed a local test of herding arranged by "Svenska Vallhundsklubben" (the Swedish Herding Club). Garm is also the first Beardie that ever had passed in the Open Class.
Obedience, Agility, Working Trials, Rally Obedience and Freestyle
A lot of Beardies have participated at obedience tests and agility trials. These activities are perfectly suited for the Beardie since it is easy to learn and fast.
During the years over fourty Beardies has conquered their Champion title in Obedience. Several Beardies have participated at Swedish Championships and Swedish Youth Championships. Vindjarl's Garm has attended the Swedish Championship several years in obedience and also become Obedience Beardie of the Year a number of years in a row.
There are not as many Beardies doing agility. One explanation might be that you need a good basic obedience to train agility. During the years five Beardies has become Agility Champions. 1989 Woolpack's Honeymoon was 2nd at Agility dog (all breeds) of the Year, as in the 2nd most successful agility dog in Sweden! That same year Reservatets Fedja was 3rd in Agility dog of the Year. At this time there was no Agility Champion-title to conquer. Surely these two, with ease, would have succeeded. A big number of Beardies have during the years participated in Swedish Championships and Swedish Youth Championships in Agility. 1997 Tretex Black Eternal Flame "Flamman" was qualified to the Swedish National Team. Flamman was the first Beardie ever in Sweden who had joined the national team in agility.
| | |
| --- | --- |
| | |
There are also Beardies competing in working trials. As of today there is only one Champion (in tracking): Trollflöjtens Magic Mandoline "Lino". A couple of Beardies has competed in level elite but unfortunately have not succeeded yet. Two beardies has participated in the Swedish Championships and the Swedish Youth Championships in fieldwork. Lino has attended several Swedish Championships and managed to win silver in the Nordic Championships. At the Swedish Youth Championships in 1993 Remmen's Noble Duchess won the gold medal in Appellclass (tracking) when it was held in Ljungbyhed.
2011 was the first rally obedience trial. Today many beardie and their owners goes to rally obedience trials. The first Swedish Championships was held 2012. LPI LPII RLD N LPELIT SE LCH RLD F RLD A RLD M Highflying That's Just Me "Penny" was qualified to this championships, Penny was also qualified to the Swedish Championships in 2013. She was also the first beardie to gain the champion diplomia in rally obedience and won many awards like Top winning beardie in rally obedience and the Swedish Championships for bearded collie in rally obedience.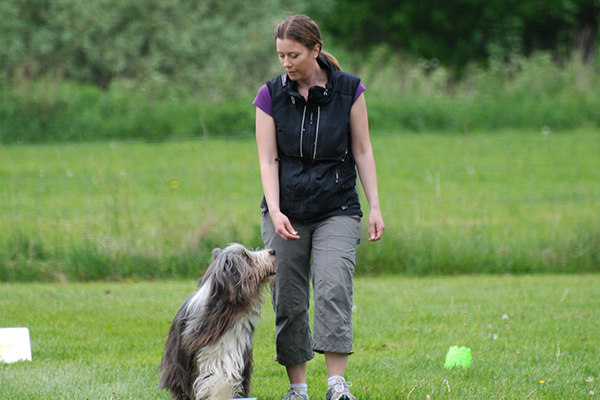 Freestyle and Heelwork to Music are two other trials that fits the beardie excellent. For the moment there aren't so many beardies going to those trials. , LPI LPII RLD N LPELIT SE LCH RLD F RLD A RLD M Highflying That's Just Me "Penny is the beardie that has been qualified to HtM level 2 (for the moment) and is the only beardie in this level. On the other hand, in UK is some really talented beardies in particular one; Moonlight Magic Dancer who 2012 & 2013 won the finals in HtM at Cruft's, 2013 they represented Scotland in the freestyle final at Cruft's.
Conformation
To enter your dog to a conformation means that you get it judged externally, that is how well your dog follows the breed standard.
During the years a big number of Beardies has become Swedish champions in conformation. At the conformations arranged by the Swedish Kennel Club some Beardies even has won Best In Show (BIS). The Breed Club, SBC, arranges every year Club shows.